September 8, 2019
Posted by:

dilan

Category:

Uncategorized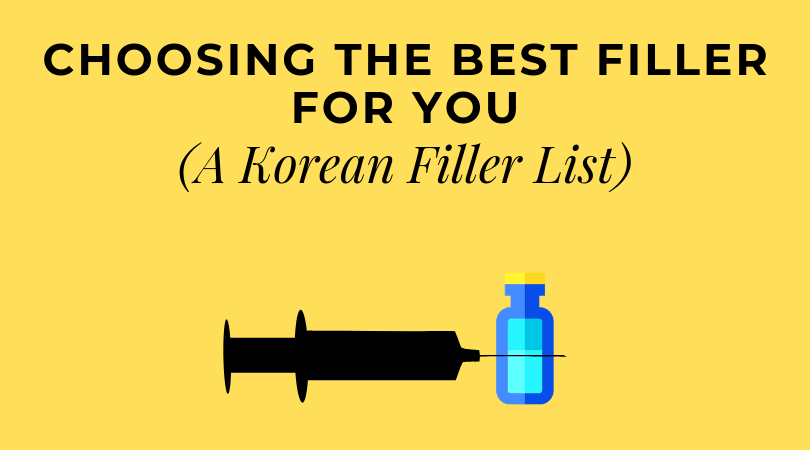 If you have been searching for Korean Filler List before you found this page, then you may be at the last string of your patience. The country has a seemingly bottomless number of fillers, which is almost equally as high as the demands of the product. This makes it difficult to search for the filler that fits you best.
But, you're in luck. Your search is finally over. We just have the perfect thing for you.
From the basic Hyaluronic Acid fillers that can last only for a few months, up to the ones that can run up to two years, you can find them here. We also included their benefits so you can properly choose from the list.
Koreans are known for their long (but 100% working) Korean Skincare routine since most Koreans make it their priority to be presentable to other people. It's like showing respect to yourself and other people.

This is why it's no longer surprising that the country also has hundreds if not thousands of businesses which sells dermal fillers.
Yes, you read that right.
Korea is the home of the fillers that are not only economical but also provide a lot of benefits for your skin, such as moisturizing it.
These fillers are becoming more and more popular since not only are they cheaper than botox, it's also not permanent, and it can easily be dissolved. That's 一 if you wish to get rid of it.
It's like a non-committal surgery. It can give you a perfect nose bridge and can make your cheeks more prominent. It can also give you a luscious lip and even get rid of your unwanted lines like the crow's feet, laugh lines, and wrinkles.
Aside from that, fillers can also help you regain the smooth skin you once had. If you have acne marks, you can easily fill that up and feel that the dent you once had is now gone.
Imagine the relief and the satisfaction it can give you. Plus, it can also help you get rid of that dull and dry skin since fillers are fairly hydrating.
Although moisturizing is not its main job, the hydration that each filler contains is not a joke. It can fairly compete with the ones you're using on your daily routine. That's not all, fillers can also offer you so much more than that.
But, before we go deeper into knowing which filler gives us what, it's crucial that we know the common ground for all of these fillers, which is the Hyaluronic Acid.
Knowing Hyaluronic Acid
Hyaluronic Acid is a natural acid which can be found in our body. This acid is found in abundance on your eyes, skin, and even your joints. One of the great things about this acid is that it attracts water. Giving your skin an ample amount of moisture in your skin.
The Hyaluronic Acid is commonly used as a temporary dermal filler to reduce wrinkles and get rid of dents and skin imperfections.
Types of Regular Hyaluronic Acid
There are generally 3 common types of Hyaluronic Acid, these are:
Belotero
Juvederm
Restylane
1. Belotero
This is an injectable dermal filler that is based on Hyaluronic Acid. This dermal filler is commonly used in the area surrounding your eyes. Aside from that, it can also be used along your chin, nose, and lips as it helps the injected area become plump, soft, and tight.
The procedure for a Belotero can take in between 15 – 60 minutes, depending on the area that you want to be covered with this dermal filler. The effects of Belotero can be seen immediately, and it runs for up to 6 – 18 months, depending on the area it is injected.
Warning: If you have a history of Allergies, you should first consult your doctor
2. Juvederm
Another variation is the Juvederm. It has a smooth gel-like consistency which is contrasting to the common granular one that you could see in the market
Juvederm is usually used to correct the moderate to severe facial folds and wrinkles. Juvederm dermal fillers contain Lidocaine. This is a natural anesthetic for a more comfortable injection. It works by numbing the injected area.
It is one of the voluminous variations of dermal fillers and targets the deeper wrinkles and folds.
There are 4 Juvederm Variations
Vollure – Ideal filler for the moderate to severe facial wrinkles and folds
Voluma – Lifts your cheek area to give it a bit of a volume
Volbella – Adds a subtle volume to the lips and the area surrounding it
Ultra – Perfect for adding more volume to your lips as compared to the Volbella
3. Restylane
This is made up of a specially cultured bacteria Streptococcus. Plus, its giving you a more comfortable injection since it contains a numbing compound. Its ideal the medium to moderate nasolabial folds, and wrinkles.
Warning: If you have a history of Allergies, you should first consult your doctor.
What To Expect After Getting the Procedure?
You don't have to worry about the recovery time because with the Hyaluronic Dermal Fillers, you can return immediately return to your usual day to day activities.
However, you should avoid doing the following 24 hours after the procedure:
Too much sun exposure and heat
Aspirin or any non-steroidal anti-inflammatory drugs (NSAIDs)
Any strenuous activity
Alcoholic Beverages
Potential Side Effects
Hyaluronic Acid Fillers safe and rarely has negative side effect. However, if some side effects do surface, it's nothing major and will immediately be healed before a week passes.
These side effects can be:
Swelling
Bruising of the affected area
Redness
Tenderness
Now, if you're thinking that the list of the Hyaluronic Acid fillers end there一 you're wrong. From its release, Hyaluronic Acid has become popular that it branched out into more fillers, based from it.
These fillers do not only possess the wonders of your regular Hyaluronic Acid filler, the enhaced ones are also available.
Here are 7 Enhanced Korean Fillers Based from Hyaluronic Acid
Takeaways

When it comes to dermal fillers, you should think of what you want to happen first. What is your purpose for the filler? Is it to get rid of your wrinkles? Is it to cover up the acne marks?
Whatever your reason is, you have to make sure that you make it as a basis for deciding about which brand of fillers you should use.